Multi-Purpose Sailing Bursary
Today, the Trust continues to uphold the skills and traditions of the Yard and to encourage youth and other groups to sail through a bursary fund, which provides resources to subsidise groups sailing on the Fleet. The fund allows the Trust to give discounts of up to 30% to organised youth and charity groups to fulfil the objective to educate and support young people, those with learning difficulties, mental health problems and a multitude of other social issues.
| | |
| --- | --- |
| Teamwork | Greater self-awareness |
| Physical /emotional tolerance  | Accept responsibility |
| Appreciation of wind and water  | A positive sense of well-being |
| Close contact with the natural world | A growth in self-confidence |
| This in turn can help them to: |   |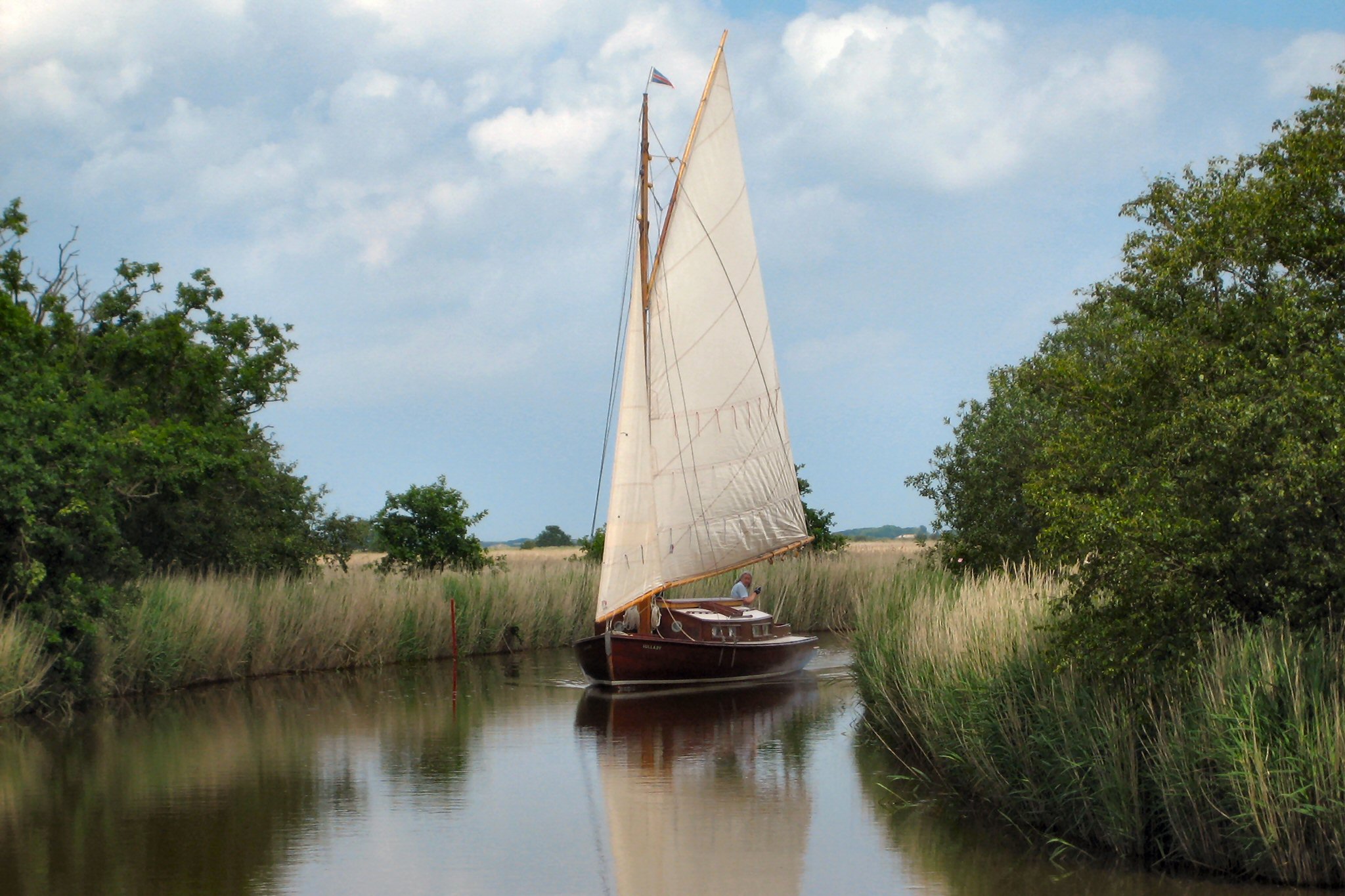 Youth & Charity Group Sailing Opportunity
Compared with other sailing craft on the Norfolk Broads, the Hunter Fleet boats are smaller and particularly easy to sail. This makes them much more suitable than some others because they are easily handled by young people and so give more opportunity for active participation.
We can provide young people and other charity groups with a unique environment to work and live together. Everyone who starts sailing, sets off on a level playing field with no preconceived ideas regarding backgrounds or abilities.
Sailing can help young people and other age groups develop a range of skills, which can be transferred to their day-to-day lives to help them overcome any barriers and thrive.
Working together as a team on one of our yachts, people can grow in confidence and self-esteem and see a significant improvement in their communication and leadership skills.
The Norfolk Broads are an ideal location to introduce sailing to novices as there is a diversity of conditions in a safe environment. In fact, one Scout group has had Scout permit holders as young as 16 supervising a crew of 2 or 3, which provides an ideal team building opportunity, especially in the context of a week-long challenging expedition. Many children have enjoyed the experience and now come back with their own families or as instructors with other youth groups.
Different types of groups (Scouts, Scripture Union, Schools, other charities) use the yachts to provide such special opportunities, each with a different emphasis, for so many young people from such a variety of backgrounds. Each of these groups has a different funding model and support strategy to make the adventures that they provide affordable for as many as possible.
Hunters can provide residential facilities for youth and charity groups with students staying on the yachts and using the yard shoreside facilities. We have many groups throughout the year working towards their Duke of Edinburgh Awards Scheme and Scout certificates.  We now want to expand this to other charity groups working towards addressing a variety of social issues such as exclusion and isolation thereby opening up opportunities to experience the natural marine habitat of the Norfolk Broads.
The Health Benefits of Sailing
Sailing can be an enjoyable and rewarding experience. It can also be a therapeutic and helpful activity for positive mental health. The calming nature of being on the water and interacting with wind, waves, and fellow sailors has been shown to ease the symptoms of mental health disorders such as post-traumatic stress disorder (PTSD), depression, anxiety, and more.
Sailing is the perfect antidote to mental health issues. It can help you relax, get out of your head, and is good exercise.
The Norfolk Broads' beautiful landscape, diverse wildlife and important cultural heritage provides a unique landscape,and provides a fantastic environment to learn to sail or improve your skills. Many people come to the Broads to immerse themselves in an awe-inspiring environment, disconnecting from perhaps busy day to day lives and connect with nature. On the water, you'll be away from your main stressors in life, such as your work and household responsibilities. You'll also be isolated enough to be away from annoyances and other distractions.
Sailing can allow stress levels plummet as life takes on a new quieter and slower pace. At the same time, Sailing typically requires you to expend effort and exercise, so you'll be spending time engaging in light to moderate physical activity, which is good for your mental health. Regular physical exercise is good for mental health, reducing stress and symptoms of anxiety, and even preventing the onset of depression. Plus, regular exercise can keep you in better physical shape, increasing your confidence, allowing you to partake in other activities you love, and extending your lifespan.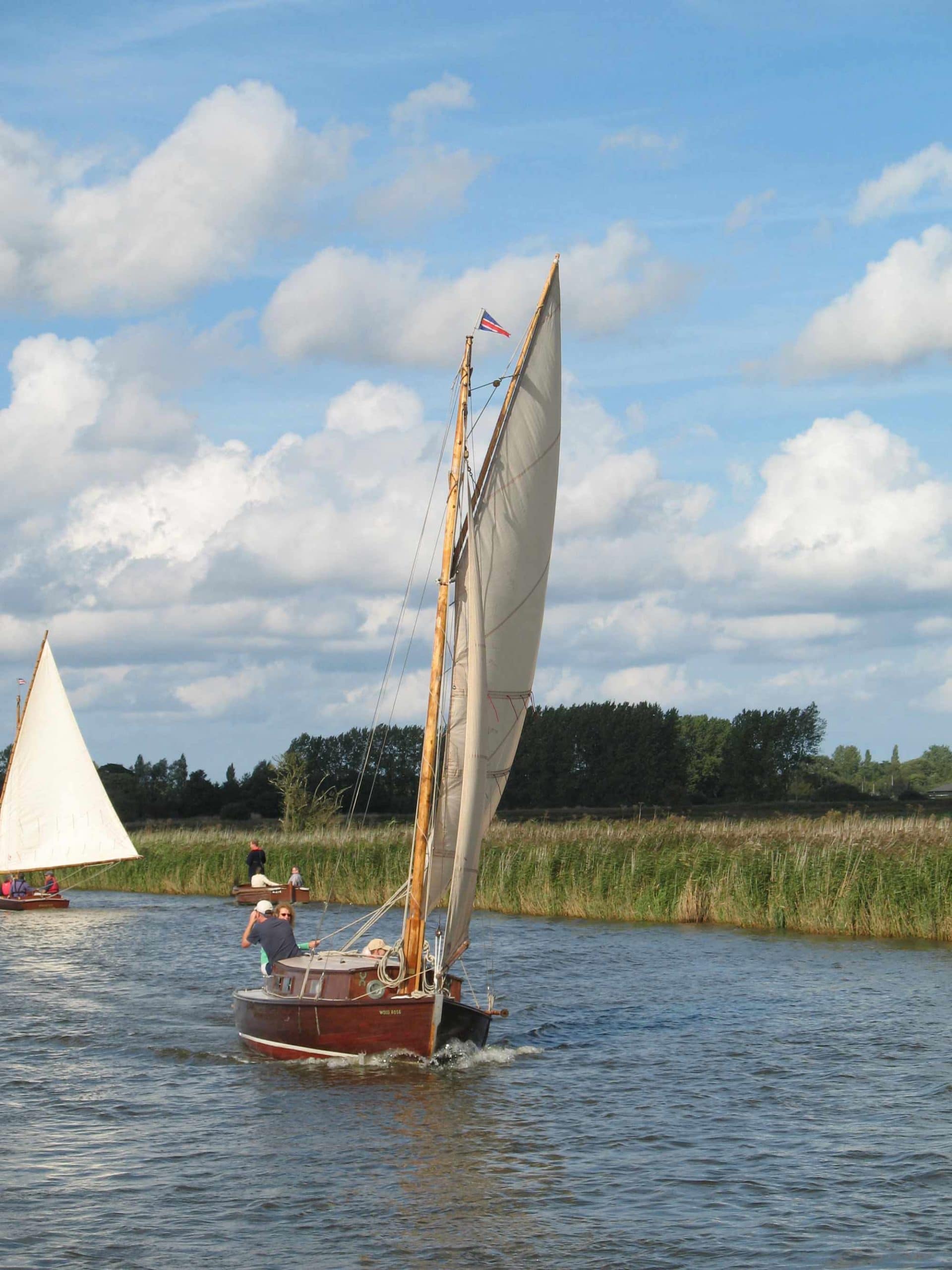 Hunter's Fleet Ltd is a recognised RYA Training Centre. As a Royal Yachting Association (RYA) Training Centre we can offer a range of training courses from the National Sailing Scheme using our keelboats. We have a highly experienced team of Senior Instructors, enthusiastic about introducing people to sailing the yachts of the Norfolk Heritage Fleet. Our comprehensive RYA courses are designed for all levels from beginners to advanced and hold Levels 1, 2, 3 and Seamanship courses.